7/2/2018 9:11:50 AM
Modern infrastructure needed to improve physical education
In big cities like Hanoi and HCM City, it is not unusual to see people taking part in physical activities in parks, lakesides, and gardens early in the morning or late in the afternoon. However, while it is clear that sports are beneficial for the health of people of all ages, it seems that many students are not aware of the importance of physical education (PE). Many have ended their sports hobbies while others claim they feel bored during their PE classes.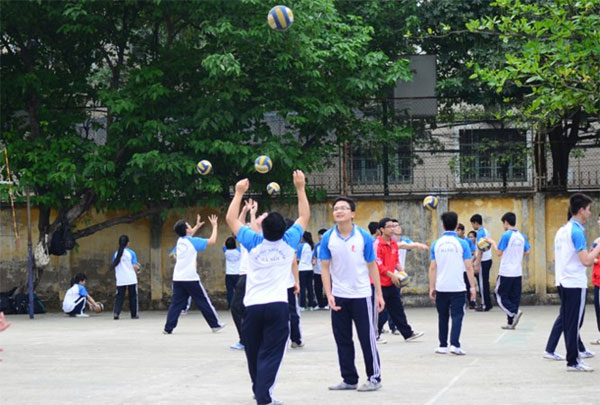 Illustrative image. – File photo 
Physical education is taught in colleges and universities. However, these classes are in fact more theory than practice as infrastructure for sports is poor. Almost all Vietnamese colleges and universities require first-year students to take PE classes. The timetable for these classes depends on many things, including the number of venues available for sporting activities in the college or university.
The Ha Noi University of Science and Technology is one of the largest technical universities in the country, with thousands of students enrolling each year. Spanning over 60 years of history, the university has operated well in many fields, including physical training. However, it also has to face a lack of infrastructure for sporting activities. 
Lecturer Nguyen Trong Tai from the Faculty of Physical Education conducted a survey regarding table tennis with about 500 students. The answers they gave were very different. Thirty-six respondents said they liked table tennis and felt that it was very suitable for them. However, only 56 students said the sport was suitable for them and 303 said it was not suitable for them at all. The rest 105 said table tennis was okay.
Table tennis is one of five sport subjects at the Ha Noi University of Science and Technology, aside from football, volleyball, basketball, and badminton, from which students can make their choice. 
"The university provides sports equipment but it cannot demand more because it has too many students," Tài said. "It is necessary to increase the number of sporting venues to reduce the density of PE classes and organise more sports activities as well."
Ho Thanh Phong, head of the International University at the HCM City National University, said the university needs to build a sports-centred mentality and not just force students to attend PE classes.
"The PE curriculum model in colleges and universities needs to be designed and carried out in a more flexible manner," Phong said. "At present, in many colleges and universities, students have to study sports that they don't like. It results in students joining physical activities only to cope with requirements."
Students  in Olympia school do exercises in the school's gym. (source: Olympia school)
Phong also points out that one of the things that make PE boring for students is the backward infrastructure and a lack of sports clubs and competitions.  
"Our university plans to organise some sports clubs and competitions to encourage students to participate in," Phong said.
"We really want to make students think that sports don't just help them acquire physical competence, but it also gives them the ability to perform a wide range of activities associated with the development of an active and healthy lifestyle," he said.
The establishment of sports clubs is a good way to address the problem of poor PE in Vietnamese colleges and universities. The Taekwondo Club at the Ha Noi University of Mining and Geology, one of the martial arts clubs in the university, was set up in 2011 by students who were taekwondo athletes. With support from the university authority, the club has become a destination for martial arts lovers. 
"In the beginning, the club had only ten members," Vu Xuan Truong, the club's chairman, said. "However, more students eventually joined the club not just for sporting activities. Here, we can make more friends and get to learn many things which will be useful for us in our work later."
"Our university has different martial arts clubs like Aikido, Karate, and Vovinam," Truong said. "The clubs have participated professional and student championships such as the Ha Noi Student Taekwondo Championship."
The second Ha Noi Student Taekwondo Championship was held in January. Along with the Viet Nam University Games (VUG) and the National Student Football Championships, it is held primarily for students. The first VUG, which was launched in 2013 by the Viet Nam Students Association and the Sai Gon Popular Entertainment and Sports Company to promote physical activities among students.
This year, the HCM City University of Science and Technology won in the dance battle, while Can Tho University emerged as football champions. 
"Practices can sometimes be traumatic, but it is also joyful," Huynh Tan Thanh, a second-year student from HCM City University and a first-time participant at the VUG, said. "Through championships like the VUG, we are able to fulfill our passion for sports."
Eight football teams from six cities – Hanoi, HCM City, Hai Phong, Thai Nguyen, Da Nang and Can Tho – participated in the final round held at the Ha Noi University of Sciece and Technology last month. Football tournament is an event where the Ha Noi University of Science and Technology is usually a powerhouse, but this year it failed to qualify for the final round. 
"Besides competing in the VUG, our football team also participates in the annual National Student Football Championships, but that is not enough for me," Nguyen Dinh An, a fourth-year student at the Ha Noi University of Science and Technology, said. "I always want to go to the stadium every weekend to support our team. We want to release stress after studying hard."
Twenty-year-old Nguyen Vu Ngoc Uyen from the Banking Academy in Hanoi agreed with An, expressing her desire to have more championships for students and in the whole country as well.
"I hope that there will be two or three championships like the VUG every year for students from colleges and universities to promote friendship and exchange," Uyen said. 
"The Ministry of Education and Training should give favourable conditions to allow colleges and universities to be flexible in organising sports activities aimed at improving students' physical health," Phong said. "Students will form the backbone of the labour force in future and if they don't have good health, they will not be able to work effectively."/.
( VNF/VNA )