7/14/2019 10:28:13 PM
Six Americans honored for contribution to peace in Vietnam
The medals for peace and friendship among nations were recently presented to six Americans with tremendous contribution to the anti-war movement in Vietnam.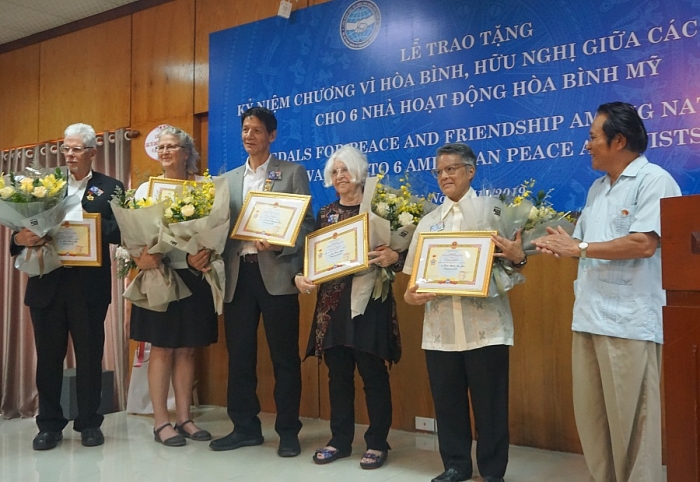 (From left) Frank Joyce, Mary Anne Barnett, Alexander Hing, Judith Albert, Karin Aguilar-San Juan and VUS President Nguyen Tam Chien at the ceremony.
The ceremony honored six peace activists, namely Frank Joyce, Mary Anne Barnett, Judith Albert, Alexander Hing, Karin Aguilar-San Juan and Douglas Hostetter.

Six people are from different walks of life, different regions of America but share the same aspiration for peace and all have dedicated their youth to the anti-war movement to support Vietnam via various activities, such as: anti-war protest, demonstration, broadcasting information regarding the truth of the war, etc.
Most of them bravely came to Vietnam at the fiercest period of the war (1970) as a way to express their solidarity with the Vietnamese people and have been standing by Vietnam's side till today, through thick and thin.
Speaking at the ceremony, President of the Vietnam – USA Society (VUS) Nguyen Tam Chien said: "The efforts of six peace activists have resulted in marvellous achievements of Vietnam's people-to-people diplomacy in challenging years, via "establishing a united international front to help Vietnam gain victory". Vietnamese people are forever grateful for their precious supports, he noted.
"Your righteous movements have contributed to sowing the seed of friendship, enhancing mutual understanding and cooperation that benefits both countries...We truly treasure your endeavor and are proud of you." 
On behalf of the six US peace activists, Frank Joyce, head of the delegation, expressed his honor to receive such noble award and sincerely thanked VUFO and the Vietnamese people for the recognition. He said, to him, the Vietnamese people are as close as brothers in a family, and voiced his commitment to further contribute to nurturing two countries' ties.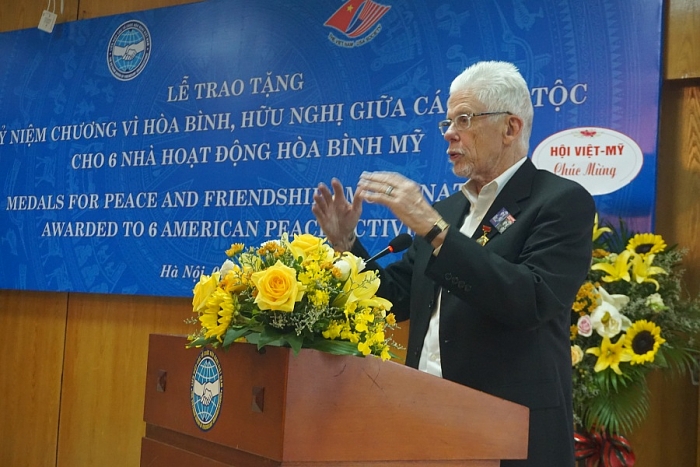 Head of the delegation, Frank Joyce, speaks at the ceremony.
Five American peace activists Frank Howard Joyce (head of the delegation), Mary Anne Barnett, Alexander Herrmann Hing, Judith Albert, Karin Aguilar San Juan visited Vietnam from July 4 – 14. During their trip, they have visited Friendship Village, worked with Vietnam Association of Agent Orange Victim, presented memorabilia to Hoa Lo relic site and specially inaugurated the book "The people make the peace: Lessons from the Vietnam anti-war movement".
( P.Y )